We cannot stress enough the importance of stretching. If you haven't already, it's high time to take this activity seriously. Not only does it promote flexibility, but it also improves other facets of your well-being, such as your mood, circulation, and your range of motion. We can go on with the list of benefits that stretching can provide. However, without proper execution, it won't be as effective. Fortunately for us, the best back stretcher is up for grabs to aid in loosening up those muscles and eventually allow you to achieve your fitness goals. 
One good example of this equipment is the LifeSpan SP1000 Stretch Partner Pro. In this article, we'll go over everything this stretching device has to offer. After reading the information here, you should be more confident in deciding whether or not it's a worthwhile investment. Without further ado:    
LifeSpan SP1000 Stretch Partner Pro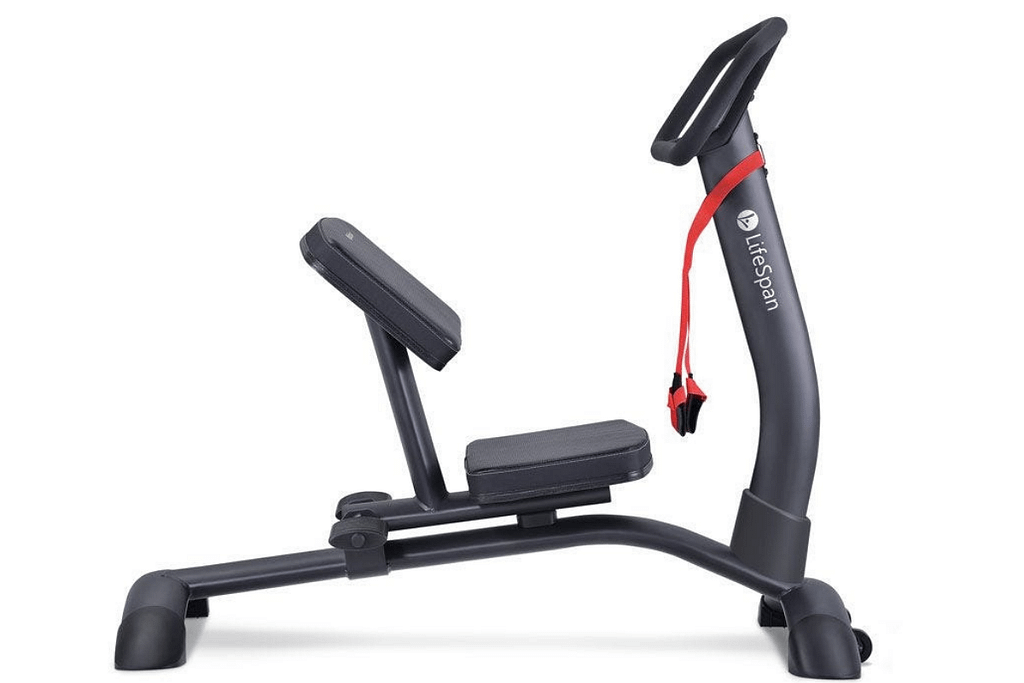 The LifeSpan SP1000 Stretch Partner Pro is specifically built for commercial use as it features several improvements to its home-based predecessor. 
These notable improvements include:
A reinforced steel frame that combines with the loop-shaped handlebars to enable a full-body workout.
The handlebar provides impressive stretcher aesthetics, not to mention a comfortable grip surface, thanks to its polyurethane covering. 
The stretcher boasts a cutting-edge, ultra-modern design and engineering technologies that ensure better performance and durability. 
The base showcases an improved weight distribution with added support from leveling feet to keep the entire unit steady during workouts. 
The seat and oversized knee pads that are identical to the home stretcher edition allow for comfortable use as you enjoy an unforgettable stretching experience.  
If you're looking to take your stretching exercises to the next level, the LifeSpan SP1000 is for you. As a beginner, my recommendation is you try using smaller stretching equipment first, like the home edition provided by LifeSpan.
Review Summary
Technical Info:
Dimensions: 
Length: 48 inches (122 cm)

Width: 29 inches (74 cm)

Height: 37 inches (94 cm)

Weight: 75 lbs (approx. 34 kg) 
Pros
Weight capacity of up to 300 lbs

Has a sturdy frame

Convenient to move with its fitted transport wheels 

Equipped with a comfortable seat

Allows for full-body stretching workouts

Comes with workout videos accessible through a QR code 

Comprehensive warranty coverage
Cons
Seat isn't adjustable

Can be challenging to set up, especially for beginners

Taller users may have a hard time fitting in the frame
LifeSpan is undoubtedly one of the more reliable and high-quality brands of fitness equipment out in the market. Apart from full-body stretching machines, their treadmills, among other products, also garner glowing fitness reviews from top magazines. 
Not only do they provide premium equipment for every budget, but each purchase also comes with excellent warranty coverage. In the industry, it's rare for mid-prized commercial-grade products to have an extensive warranty, let alone lifetime coverage. If anything, this speaks volumes about LifeSpan's confidence in its products.    
While not all of LifeSpan's equipment offer lifetime warranties, their 5-year coverage still tops the usual two years provided by other companies. It's an incredible inclusion given their products' fairly affordable cost. 
Product Features
It's time to dive deeper into what the LifeSpan SP1000 Stretch Partner Pro offers: 
Stretch Type
The SP1000 Pro is full-body stretching equipment that is versatile enough to provide for the needs of most athletes and residential users. It's equipped with LifeSpan's patented Flex-Smart pivoting system and features handlebar posts that enable you to perform a broader range of motion. 
With the pivoting system, you're able to position your body for proper stretching execution and prevent over-extension and having sore muscles. 
For me, the ergonomic benefits you get from the equipment lead to healthier stretches and happier muscles. The additional flexibility you get is also an advantage, primarily when you perform a routine that requires you to lean far back or extend your muscles as much as possible.  
Overall, the SP1000 Pro works as advertised. I can tell with certainty that you can use this full-body stretching machine to loosen up your different core muscle groups safely and accurately. 
Frame
The steel frame that holds all of the SP1000 Pro's parts together is powder-coated and is big enough to support full body stretches. This sturdy frame is also spacious enough to allow several body postures that your hand, back, hip, and abdominal stretches require. 
At first look, the design of the SP1000 Pro appears like a hybrid of the Precor 240i and the Nitrofit Limber Pro. Although this is the case, it's lighter than both but still supports a maximum weight capacity of 300lbs. 
While it isn't the heaviest fitness equipment out there, the SP1000 Pro has a frame that's durable and reliable enough to remain steady when you're stretching. Its dimensions of 49" L x 29" W x 38" H make it suitable for both tall and shorter users alike. People also like how compact the SP1000 Pro is, making it an ideal addition for most home spaces than its bulkier counterparts.  
Finally, the unit comes with transport wheels for mobility and ease of storage. Among the three (with Precor and Nitrofit), the SP1000 Pro is the lightest yet remains sturdy and stable to meet your everyday fitness needs.   
Assembly
While the SP1000 Pro allows you to perform a wide array of stretches, its assembly presents quite a bit of a challenge. 
We're not saying that it's overly complicated, but it's fair to point out that assembling the SP1000 Pro can get frustrating. Although the package comes with disposable tools (which some users find to be not helpful at all), small parts noticeably lay scattered on the box, if not entirely missing, according to user feedback found online. 
Given this disorganization, it's not surprising that assembly time takes a minimum of an hour to complete. Not unless you have prior experience or possess average-level mechanical skills, prepare to spend considerable effort in putting this equipment together. 
Just my two cents: the assembly instructions will prove more useful with better illustrations. 
Until then, it's a great idea to have an extra set of hands to help you hold some parts and perhaps even figuring things out during the assembly process.
Upholstery
The SP1000 Pro now has a 2" thick seat, which is 0.5" thicker than its previous version. This upgrade makes it even more comfortable for users to perform exercises while sitting and even kneeling. 
In addition, there are also footrests for additional stability and comfort, especially for the elderly and users who have issues with their balance. The handlebar posts with the Flex-smart pivoting system are also worth mentioning, along with the wrist straps, which you'll find to be securely attached to the frame. You can hold on to them as you perform deeper and fuller stretches without worrying about your safety.  
Overall, the SP1000 Pro doesn't lack comfort and ergonomic benefits given its design.  
Warranty
Every purchase of the SP1000 Stretch Partner Pro comes with the following warranties: 
Seat: 1 year 

Parts: 5 years

Frame: Lifetime Warranty
Like we mentioned previously, its warranty is one of the premier features of the SP1000 Pro. The lifetime warranty (at least) for the frame is a definite steal at its current price tag. Most of the competitors within the same price point can only go as far as five years for the frame. 
Even though it's $50 more than its earlier version, the SP1000 Pro's lifelong protection is certainly worth paying, making the price difference negligible.
Instructional Placard
The SP1000 Pro comes with an instructional placard to help you grasp different stretching techniques easily. You'll appreciate at once how neat and straightforward the display is, and the instructions are indicated clearly using both text and images. 
Each of these tutorials shows you how to perform full-body stretching that targets specific muscle groups in your upper back, abdominals, shoulders, hip & groin, hamstring, quadriceps, calves, among others. 
Unlike the SP1000, where you need to go through the hassle of browsing through the charts and plugging in its "Flexible for Life" DVD to watch a 30-minute stretching tutorial, the SP1000 Pro is much more convenient to use. With the instructional placard, everything is displayed at a glance. LifeSpan also equipped the SP1000 Pro with a QR code that allows you to watch video tutorials by simply scanning the code. 
Overall, the simplified and modernized upgrade of the stretching tutorials found on the SP1000 Pro deserves props.    
Key Takeaway
LifeSpan's SP1000 Pro is a piece of well-constructed equipment that is certainly worthy of consideration as the best back stretcher around. Not only does it help make your stretching routine more comfortable than ever, but there's also a lot to like about the heavy-duty frame and how it can accommodate various stretches.
Although it's an excellent choice for almost any user, it's specifically ideal for the elderly in your household who want to work on their balance and improve their range of motion. 
The SP1000 Pro is also more convenient than ever with a workout guide that proves beneficial, even for beginners. With a doctor's prescription, it's your ideal partner to bring and perform more efficient stretching exercises even at home. 
Finally, such a superb finish on a fitness device is hard to overlook. The SP1000 Pro comes in a compact design that's ideal for saving space. However, taller users (specifically those who are over 6'0 tall) may have a hard time maximizing the stretcher's benefits on offer.   
In closing, the upgraded warranty is the most telling benefit of the SP1000 Pro. For a minimal amount, you're already getting lifetime coverage, which is easily the most that any company can offer. 
If you're looking for the best back stretcher to add to your home gym without having to break the bank, LifeSpan's SP1000 Stretch Partner Pro makes for an excellent choice.    
Alternatives
Precor 240i Commercial Series StretchTrainer
Features a sturdy frame and ergonomic design

Mid-sized that's why it's convenient to store

Can support up to 250lbs

Cushioned knee pads and comfy seat

5-year warranty for the frame & 2-year warranty for the parts
The Precor 240i is specifically designed to make your daily stretching routine a lot easier. You won't have a hard time learning the best poses and movements, thanks to the instructional placard that comes with it, which will surely allow you to get the most out of the machine.  
It also features knee pads, a mobile seat, and different handle options that allow you to perform a maximum stretch, regardless of your body type and height. 
Check Pricing on Amazon
Nitrofit Limber Pro Stretch Machine
The design and functionality of the Nitrofit Limber Pro are pretty identical to the Precor 240i, except for the instructional display it comes with, which includes nine illustrated exercises. 
It also features an adjustable seat that can accommodate different body types, a pair of wheels for easier storage, and a calf station with support bars.  
This back stretcher is an exciting add-on to your everyday workout routine and works specifically well for seniors. If you're on a budget but don't want to compromise on the quality of your stretch trainer, you can't go wrong with the Nitrofit Limber Pro.   
Check Pricing on Amazon