Perhaps, the only thing you must have in yoga, for starters, is a mat. It's the one piece of equipment that ties the whole practice together, and without one, you'll have a hard time performing your yoga routine. In this article, we review the best yoga mat for beginners in 2021.
Product Specifications: 
Material: PVC – non-toxic and 6P-free

Color:

Marrakesh

Dimensions: 0.2 x 24 x 68 inches (LxWxH)

Weight: 1.13kg (approx. 2.49lbs) 
| | |
| --- | --- |
| PROS | CONS |
| Long-lasting and non-slip surface | Not the most eco-friendly option  |
| Offers excellent value for your money with its outstanding lifespan | Doesn't offer guidelines for proper positioning |
| Different sizes, designs, and thicknesses to choose from  | |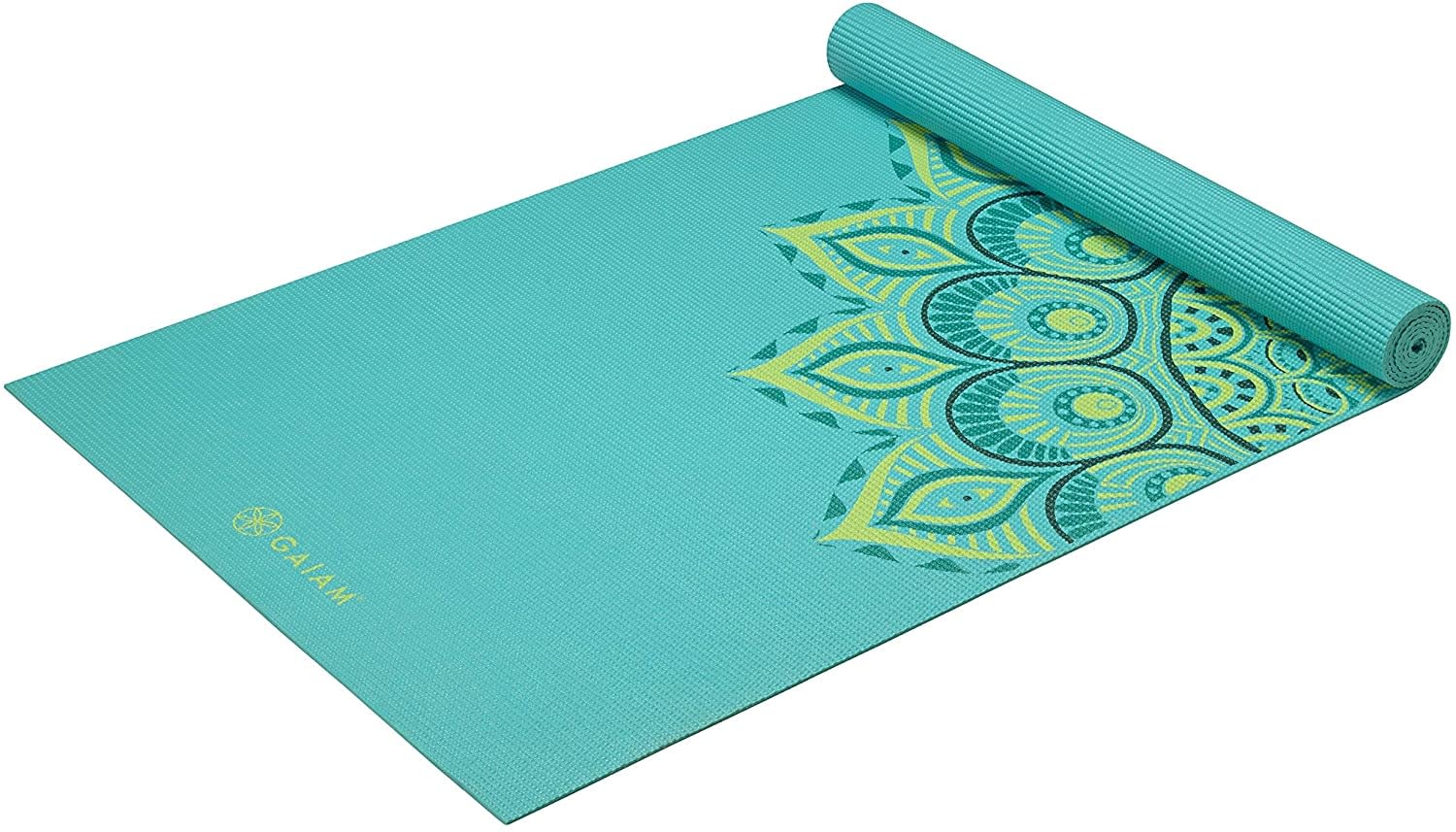 Check Pricing on Amazon
Early Impression: 
The 6mm Gaiam Print yoga mat is perhaps their most popular and best-selling yoga mat. Almost every yoga practitioner out there has this best yoga mat for beginners in their garage or closet. It's made of a non-toxic PVC that's lightweight (approx. 2.5 lbs), provides sufficient cushioning, and is always available in a variety of printed patterns.
Several aspects of this print yoga mat appeal to us. For starters, it's reasonably priced. Second, the sheer number of styles available ensures that everyone will find something they like. Finally, the mat provides adequate cushioning even for those with sensitive joints, with its 6mm thickness.
A few more plus points are the grip, which is more than decent, and the material, which holds up nicely, even if you use the mat daily.
What we don't like about the Gaiam print yoga mats is that they're identical to most low-cost yoga mats. Mine curls at the ends when I lay it down, feels cheaply constructed and doesn't provide the same level of class as some of the other mats. It also has a chemical scent at first, but the smell goes away quickly once you wash the mat with soap and essential oils.
Key Features
Performance
The mat has a non-slip surface with a light, tacky feel to it that provides the grip. Although it isn't distracting during exercise, the tackiness is very noticeable as it provides a unique feel compared to other PVC yoga mats. The non-slip surface has remained intact the entire time I've had my mat. I can even say that it has gotten better after years of use. 
I've had my Gaiam Print yoga mat for three years and have used it extensively (at least four times a week) during that span. It's only recently that I noticed signs of wear and tear, such as the mat beginning to flake, particularly in the area where my feet are usually placed during exercise. After three years of heavy use, I can say that this mat truly stands the test of time, making it a worthwhile investment. 
The Gaiam Print yoga mat is classified as lightweight and measures 68" L x 24" W. If you're taller than 5'6", you'd want to go for other Gaiam mats (those with an extra 10" to the length and 2" to the width) as this won't be a good choice for you.  
Comfort
Gaiam yoga mats are available in various thicknesses up to 8mm, although availability may be an issue for thicker models. The one I use and would recommend is 6mm thick. It provides the ideal level of support for sensitive joints, especially if you're used to performing your routine on a carpet, rug, and other softer surfaces.  
However, you need to keep in mind that it doesn't provide adequate support on a hard floor and similar surfaces. In which case, thicker mats are recommended. 
Colors and Design
Gaiam yoga mats come in a variety of colors and designs. One area of improvement that I've noticed is that I haven't come across a design that includes guidelines that show proper foot and hand placement, which is unfortunate because that can be useful.
I love that the Gaiam Print yoga mats I see present yogis and fitness enthusiasts the opportunity to stay rooted in the deeper purposes of yoga. The design of my mat shows a red mandala at the bottom, which represents the lowest chakra. It rises through the chakras and their corresponding colors up to the top portion of the mat. Within the mandalas on the yoga mat, you'll also notice symbols that represent the mantras of each chakra. 
This impeccable detail that also feels authentic may even entice other buyers to learn more about what the design on the mat symbolizes. You can even use the best yoga mat for beginners as a reminder of the direction you want your yoga practice to take. 
Key Takeaways
If you're just beginning your yoga practice, you should strongly consider the Gaiam PVC yoga mat range. These mats are made from PVC but are free from latex and six of the phthalates commonly found in yoga mats, so they're environmentally friendly compared with other PVC mats.    
The PVC Gaiam yoga mat range offers terrific value for an incredibly low price. Each mat comes in a stylish design with a tacky texture that allows for an excellent performance. The particular design I have is perfect for yoga practitioners looking to bring an added element of spirituality to their practice. In my case, the reminder of the body's energy system, chakra, is right under my hands and feet as I move to perform yoga postures. 
Finally, Gaiam promises a lifetime guarantee, and this product may just live up to that as I've been using mine regularly for three years, and it's still going strong. 
Overall, this is an excellent product and undoubtedly the best yoga mat for beginners, especially those who are after a straightforward product and don't really care about getting a high-end yoga mat. 
Check Pricing on Amazon
About Gaiam Yoga Mats 
Gaiam Yoga is a well-known brand among beginner yogis. They produce inexpensive yoga equipment that's generally pretty decent. They aren't as great as high-end yoga mats in terms of quality, but they get the job done and meets everything you need in an exercise mat.
Most Gaiam yoga mats are constructed from foam or PVC material, which are relatively affordable to produce, allowing them to pass those savings on to you. You can count on these mats to be durable, provide adequate cushioning, and are available in a wide range of printed designs.