One of the main reasons why grapes are so popular is their versatility. You can eat them fresh, as the fruit is an excellent source of fiber and vitamins. Or, you can turn them into various products, such as wine, jam, raisins, vinegar, grape seed oil, and of course, DIY juice. Grape juice recipes are a quenching addition to any meal. 
Although simplistic, you can turn to them to elevate your dishes effortlessly. You don't even need to add a whole lot of ingredients to make one. In this article, we're going to list some of the best grape juice recipes you can do at home, as well as the potential health benefits of drinking grape juice. 
Potential Health Benefits of Grape Juice
Like the fruit they're made from, grape juices are a fat and cholesterol-free source of vitamins and minerals. They have a low sodium content too. The following are some of the benefits of drinking grape juice: 
Improved Heart Health
According to research, grape juices, especially those made from red and purple grapes, promote cardiovascular health in the same manner as red wine does. The benefits of drinking grape juice to improve heart health include protecting your blood vessels, maintaining healthy cholesterol and blood pressure levels, and decreasing the risk of blood clots.  
Reduced Risk of Illnesses
Antioxidants are in abundance on grape juices. They help protect the body from free radicals, which are harmful substances found in sources such as pollution or the chemicals found in processed food. The damage that free radicals cause to your cells contributes to the formation and development of cancer, heart disease, and other illnesses. 
Antioxidants found in grape juices help prevent or even undo the damage caused by these harmful substances. In particular, Concord and purple grapes have higher amounts of natural antioxidants compared to other grape varieties. 
Gets Rid of Urinary Tract Infections 
Grape juices, particularly black grape juice, help fight the bacteria that cause urinary tract infections. Test results show that compounds found in grape juice effectively block the bacterial adhesion thought to contribute to UTI. 
Lower Blood Pressure
Potassium found in grape juices benefits people with high blood pressure by aiding the body to eliminate excess sodium. This mineral also helps lower blood pressure by relaxing the walls of your blood vessels. 
Best Grape Juice Recipes
Grape and Lemon Juice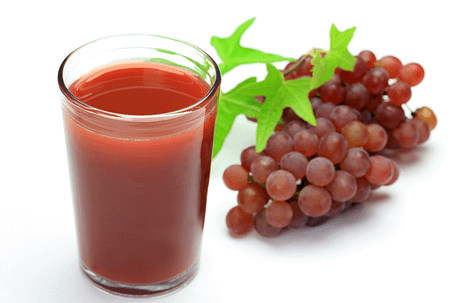 This recipe is a combination of lemon and grape juices. The sweetness of sugar balances the natural tartness of the juice, while fresh spearmint delivers a cooling sensation in your mouth. The exciting contrast of sweet and sour flavors will delight your palate and will leave you wanting more. 
Ingredients
½ tbsp lemon juice

1 tbsp sugar 

2 cups ice 

60 oz fresh grapes 

8 leaves fresh spearmint 
Instructions
Rinse the grapes and drain well. Place them in a blender and process until completely smooth. 

Place a strainer over a large mixing bowl. Wrap cheesecloth around it and pour the grape juice over. Gather the cloth's edges, twist, and squeeze to extract the grape juice. Don't forget to remove and discard the skin.

Combine the grapes, lemon juice, and sugar in a pitcher. Stir until the sugar dissolves.

Pour the drink into four glasses filled with ice and garnish with spearmint leaves to serve.
Green Grape Juice 
Green grapes produce a juice that's naturally sweet with a hint of bitterness. This recipe achieves balance with some sugar and lime juice for added flavor. Top it off with fresh mint for a cooling effect and a more herbaceous flavor. 
Ingredients
55 oz. green grapes 

½ tbsp. lemon juice

8 leaves fresh mint 

2 cups ice cube  

2 tbsp. sugar 
Instructions
In a blender, combine the grapes, sugar, lemon juice, and mint. Blend until completely smooth.

Cover a strainer with cheesecloth and place it over a bowl. Fill the cheesecloth with the blended juice and gather the four corners to resemble a pouch. Twist and squeeze the clear juice out and into the bowl. Remove any residue that remains.

Pour the juice into a pitcher. Serve with ice.

Grape Juice and Apple Cider Vinegar
The sweetness of grape juice and honey work in contrast to the sour taste of apple cider vinegar in this recipe, making it more palatable and less potent. Apple cider is scientifically proven to have numerous health benefits, including diabetes-regulating properties. When mixed with grape juice, it produces a delicious beverage that will keep you nourished and feeling satisfied. 
Ingredients
40 oz grapes

3 tbsp apple cider vinegar 

2 tbsp honey

¼ cup water

8 leaves fresh mint 

2 cups ice cubes
Instructions
Combine grapes, water, honey, apple cider vinegar, and mint leaves in a small saucepan. Simmer for 10 minutes over medium-low heat. Remove from the heat and set aside to cool.

Blend the contents in a blender until smooth. Pour the blended juice over a cheesecloth and tie the four corners together to form a pouch. Squeeze the juice into a bowl by twisting and squeezing it. Discard any residue.

Fill a pitcher with the juice and serve with ice.
Cranberry Grape Juice 
This light refreshment is a surefire crowd-pleaser. It's easy to make and can be served any time of the day, at home or even at parties. 
Also, you can top the drink off with maraschino cherries to take it to the next level while keeping it classic and simple at the same time. 
Ingredients
48 fl oz cranberry-grape juice

2 tbsp lime juice  

24 fl oz lemon-lime soda

lime slices and maraschino cherries (optional) 

4 ½ cups ice cubes

 
Instructions
Combine the cranberry-grape juice, lemon-lime soda, and lime juice in a pitcher. Serve with ice and garnish with cherries and lime slices. 
Apple Grape Juice 
This three-ingredient grape juice recipe comes packed with polyphenols and other naturally occurring organic compounds that are good for your heart. Grape juice and apple are full of sweetness, while lemon juice provides added vitamin C while balancing the flavors to perfection. 
Ingredients
6 oz stemmed red grapes

7 oz apple, cored, chopped into chunks

2 oz peeled and deseeded lemon 

½ cup ice cubes
Instructions
Wash the grapes thoroughly, then drain the water. Process the grapes, apples, and lemon in a juicer and collect the juice using a pitcher. Mix well and serve with ice.

Frequently Asked Questions
How much grape juice should I consume per day? 
It's good to limit your consumption of these grape juice recipes to 8 ounces per day because it contains relatively high amounts of sugar. Excessive intake of fruit juices, in general, may lead to flatulence, tooth decay, and diarrhea.   
Is grape juice acidic? 
Indeed, grape juice is acidic.
It's made up of 70% to 80% water, sugars, organic acids, and other dissolved particles. Tartaric, malic, and traces of citric acid are among the acids found in grape juices.
Tartaric acid, which is also found in bananas and apples, is responsible for the acidic flavor of grape juice.
What happens if I drink too much grape juice? 
Excessive consumption of red grape juice may cause iron deficiency anemia. It contains high amounts of polyphenol that negates the benefits of ascorbic acid.
If you're seeking to boost your iron intake, drinking large amounts of red grape juice may prove detrimental to your health.
Meanwhile, drinking a lot of purple grape juice helps you limit your iron uptake since it's effective in lowering iron levels.