Juicing has always been the more delicious, and should we say, more fun way to add more fruits and vegetables into your diet. But, do you know that it offers more benefits than just flavor? In this article, we will explain why consuming an immune booster juice is excellent for your health. We will also share some juice recipes as well as tips on how to make your immune booster juice right at the comfort of your home.  
Immune Booster Juicing Tips 
Try the following tips and tricks when you're exploring with immune booster juices at home. They allow you to get the most benefits from healthy juices while improving your overall juicing experience:  
Tips:
Stick with organic ingredients
When creating DIY juices, you can expect to get a concentrated dose of the fruits and vegetables you'll be using. Since this is the case, you're strongly advised to choose organic products every time. Organic ingredients help ensure that your juice is clean, pure, and toxin-free. 
You may refer to the lists provided by the Environmental Working Group: the Dirty Dozen and Clean 15.  Remember to start your shopping list by listing organic products for your most important produce. 
Home juicing makes for an excellent option when creating an immune booster juice for you and your family. However, unlike other beverages, keep in mind that homemade juices are more susceptible to bacterial growth since they aren't pasteurized. 
To ensure your safety while home juicing, store your juices in the refrigerator for a maximum of 3-5 days. 
Once you start to juice regularly, it's better to start with simple juice recipes that require only a few ingredients. Then, slowly but surely establish your flavor profile, which will eventually allow you to experiment with various flavors that'll taste right for your palate.   
Tricks: 
The following are simple hacks and tricks you can adopt to improve your overall juicing experience: 
Invest in good preparation tools to make the juicing process quick and painless. With the right equipment, you're more likely to enjoy making your immune booster juice, specifically if you can prevent parts of the process like peeling from becoming a slippery ordeal. 
Make sure to wash the ingredients you'll use thoroughly, especially if you're planning to put in whole fruits and vegetables, with their skins and all. Washing them clean of possible toxins and pesticides is recommended unless you're 100% certain about the origin of the goods. One of the more practical and effective ways to rid your goods of impurities is by performing a light vinegar bath on them.  
Remember to de-core apples and remove the fruit rinds (unless you find their taste okay) to keep your juice from tasting bitter.    
Keep your freshly-made juices in light-tight containers, such as flasks. They'll oxidize and start to lose vital nutrients the moment you press the juice from the fruits and vegetables. Remember, less contact with light = less oxidation. 
Finally, make it a point to rinse right away. You can simply use warm water and sometimes a little soap to do the trick perfectly if you rinse at once. When left, however, it's highly likely for leftovers like the fibrous bits of your ingredients to cling to your juicer and other equipment.      
How to Make Your Personal Immune Booster Juice 
Coming up with your own juicing recipe is much like cooking. If you wouldn't combine specific ingredients in a salad, they probably won't combine well to make a juice. Here are a few rough guidelines to help ensure your healthy juices still have a tasty edge: 
Color
You probably won't find it appetizing to eat grey soup or drink a brown cocktail that makes you feel like consuming swamp juice. For this reason, you should keep in mind to exert effort in choosing the colors you'll be combining. 
For instance, if you're making a leafy, green juice, pick kiwis or apples over pineapple or strawberry. Meanwhile, if you're making a juice with beetroot as the base, it'll be wonderful to pick ingredients with a shade of pink.  
Flavor
A good rule of thumb is to select one ingredient from each of these categories. Doing so helps ensure that you achieve not just good nutritional balance but good flavor balance as well. 
Herbs

Spices

High-yield
Root Vegetables
Sour/Acidic Fruits
Sweet Fruits
Leafy Greens
Mint

Ginger

Cucumber

Beetroots 

Grapefruits

Apples 

Spinach

Basil

Paprika

Melons

Carrots 

Blood

Orange

Pears 

Kale

Parsley

Chilies 

Apples 

Radish 

Plums

Sweet

Citrus

Lettuce

Fennel

Cayenne 

Pepper

Celery 

Turnips

Limes

Kiwis 

Chard

Coriander

Coconut

Lemons

Mangoes

Rocket

Tomatoes

Papaya

Beet 

Greens 
Try these immune booster juice recipes and experience the benefits they bring to your mind-body health. 
Immune-Boosting Green Juice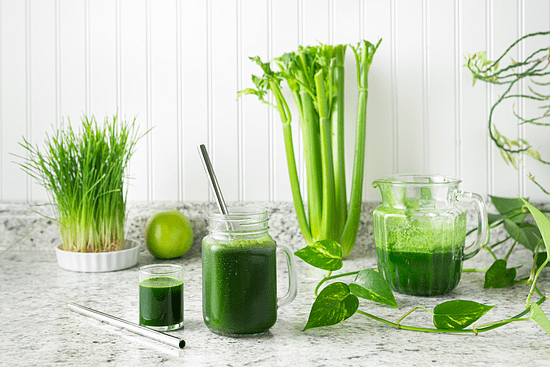 Ingredients: 
1 cup mint leaves 

1 cup coriander leaves 

1 cup baby spinach 

1 pc. apple or pear

1 cup chopped cucumber 

A pinch of black salt 

2 tbsp. Lemon 
Procedure: 
Add a cup of water and then blend all ingredients. Consume immediately. 
How does this juice boost your immune system? 
This green juice is fortified with Vitamin A, Vitamin C, Folic Acid, and antioxidants that avert inflammation and aid your body in fighting infections.
Kale Mary (Kale, Tomato, and Celery) 
This reinvention of the popular cocktail (without the alcohol) isn't just tasty and takes no time to prepare, but super healthy as well. 
Ingredients: 
25g kale leaves 

500 ml tomato juice 

2 celery stalks chopped 

Squeezed lemon juice 

Tabasco to taste 
Procedure: 
Create the juice by pressing the kale leaves and celery stalks into your juicer. 

Add the tomato juice to the mix, then whizz together until smooth. 

Add the tabasco and lemon juice to taste. 

Finally, garnish with a celery stalk, then serve. 
How does this juice boost your immune system?
magnesium from the tomato juice

potassium from the tomato juice

vitamin K from the tomato juice

vitamin C from the kale and tomato juice

manganese from the kale

vitamin B-6 from the tomato juice

vitamin A from the kale and tomato juice

vitamin B-9 (folate) from the tomato juice

  
Hot Lemonade
A small one or two-ounce serving of this juice packs enough spicy punch to warm your palate and entire body as it infuses your cells with healthy goodness. 
Ingredients: 
1 lemon (juice only) 

1-inch fresh ginger

1-inch fresh turmeric
Procedure:
Combine all ingredients by diluting them in warm water. 
How does this juice boost your immune system?
Lemon: Aside from high levels of vitamin C, lemons contain potent antimicrobial and antibacterial properties. These components classify lemon as a superfood for boosting your immunity.
Ginger: Ginger and turmeric belong to the same family and have an identical root-like appearance, although ginger is lighter in color. Ginger contains a high level of antioxidants, not to mention antibacterial and antimicrobial properties to help keep you healthy.
Turmeric: Turmeric is a powerful ingredient that contains the healing compound curcumin. It also stores antioxidants, including flavonoids, polyphenols, and vitamin C, which are all wonderful boosts for your immune system.        
Evergreen Smoothie
Ingredients: 
1 cup baby spinach

½ cup bottle gourd or cucumber 

½ cup of curds

¼ tsp. jeera powder

a handful of mint leaves

a piece of amla or ½ tsp. lemon juice 

a pinch of rock salt 

1 cup ice cubes 
Procedure: 
Combine all the ingredients in a blender together with the ice cubes. Blend until smooth. 
 How does this juice boost your immune system?
Spinach is rich in antioxidants, such as beta carotene and vitamin C, which enhance the ability of your immune system to fight off infections. Meanwhile, the good bacteria in curd also boost your immune system and act as a barrier against the attacks of harmful microorganisms. 
Watermelon Mint
Watermelon isn't only rich in arginine and vitamin C (both of which help bolster your immune system) but also helps relieve muscle soreness, a common flu symptom, especially in older adults.
On the other hand, fresh mint adds a refreshing twist to an otherwise simple watermelon juice. In addition to providing a cooling effect, mint also has digestive properties that can prove beneficial for you. 
Ingredients: 
1 medium-sized watermelon

2 tbsp. mint leaves

a sprinkle of black salt and chaat masala 

ice cubes  
Procedure: 
Chop the watermelon and place it in a blender, together with 2 tbsp of mint leaves. Blend well. 

Pour the watermelon juice into tall glasses. Sprinkle with black salt and chaat masala from the top. Add the ice cubes. 

Garnish with mint leaves. Serve right away.   
How does this juice boost your immune system?
vitamin A from the watermelon

vitamin C from the watermelon

arginine from the watermelon

magnesium from the watermelon

citrulline from the watermelon
Beet, Carrot, Ginger, and Apple
With this simple recipe, you can come up with a flavorful juice drink even without a juicer. Enjoy the delicious flavor of carrots, beets, apple, and ginger, together with the numerous health benefits you can get from this beverage. 
Ingredients: 
1 medium apple

1 medium beet 

1 tbsp fresh ginger (skin removed)

3 whole carrots 

unfiltered apple juice
Procedure: 
Place all the ingredients in a blender and blend until smooth. Afterward, add a small amount of apple juice, depending on your taste. 

Pour the juice over a fine-mesh strainer placed over a large bowl. Then, using a rubber spatula, press the pulp down and squeeze all of the juice out. 

Let the mixture stand for at least 5 minutes so that you can get the most out of the juice. 

After discarding the pulp, pour your juice into a serving glass. You have the option to drink at once or chill for a bit. 
Note: You can place the beverage in the fridge for a day or so, but it tastes best when fresh. 
How does this juice boost your immune system?
Vitamin A from the carrots and beets

vitamin B-6 from the carrots

vitamin B-9 (folate) from the beets

vitamin C from the apple

potassium from the carrots, beets, and apple
Key Takeaway
Creating nutritional drinks, such as an immune booster juice, is one of the tastier ways to stay healthy that you can do at home. Whether you're into juices or smoothies, you can always add other superfoods into the mix, such as wheat germ and chia seeds, for additional health benefits. 
Remember, it's always best to incorporate juicing in a more comprehensive regimen, along with proper hygiene, getting enough sleep, staying hydrated, reducing stress, and of course, frequent exercise.  
See also: Immune Booster Juices for Your Kids