Performing an organic juice cleanse involves the extraction of liquid from fruits and vegetables while removing the solid parts, either by hand or the use of a motor-driven juicer.  
How to Perform an Organic Juice Cleanse Diet Plan?
The following are different variations on how you can perform an organic juice cleanse: 
You're to drink only fruit or vegetable extracts and other drinks for the duration of the organic juice cleanse—other drinks you may intake include unsweetened coffee or tea, and of course, water. 

Combine your juices with dietary supplements since you won't be consuming food while on the diet plan. These supplements are necessary as they add all-important nutrients to your body, such as fiber, amino acids, and vitamins and minerals. 

Use organic juice as meal replacements. You can replace your breakfast or dinner, or both with a drink.

You may also opt to combine organic juices with approaches that can cleanse and detoxify the colon. 

Combine the fruit and vegetable juices with particular diets as a means of inducing weight loss. These diets are commonly low in calorie content, with no more than 800 to 900 calories per day.

As someone new to an organic juice diet plan, you can include smoothies and small amounts of vegan food in your meals.  
Does an Organic Juice Cleanse Help You Lose Weight?
Through juicing, you consume a hefty amount of nutrients without consuming whole fruits and vegetables. Although DIY juice cleansing has become quite the trend over the years, and more than a few people claim that it's a helpful weight loss mechanism, the effectiveness of juice diets isn't well-studied to date. 
To lose weight, you must maintain a certain amount of calorie deficit, which takes place when you consume fewer calories than you burn. Most of them lack solid food in juice diets and only consist of 600-1000 calories a day. 
The resulting significant calorie deficit is the main reason why juice diets often lead to weight loss, at least in the short term. The lesser calories you consume on your juice diet, the quicker you'll lose weight.  
Keep in mind, though, that after the organic juice diet, your calorie intake goes back to normal, and you'll likely regain some, if not all, of the weight that you lost.
Best Juices for Weight Loss
After knowing the different ways to perform an organic juice cleanse and taking into account information about its effectiveness in helping you lose weight, the following are several of the best juices you can have:
Watermelon Juice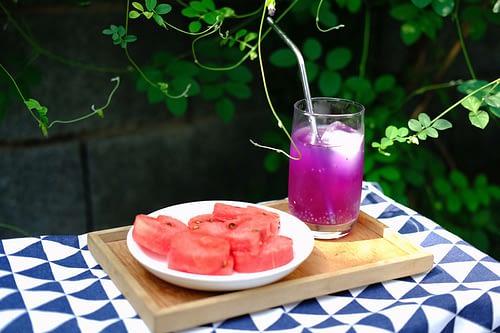 Besides having a low-calorie content, watermelon juice is sweet, refreshing, and packed with nutrients. Watermelon is an excellent source of micronutrients that are good for your heart, including potassium and immune-supporting antioxidants, such as vitamins A & C. It also helps you lose weight by feeling fuller due to its high water content.
One 4-week study provided 2 cups (approx. 300g) of fresh watermelon to their 33 participants daily.  Results show that the respondents belonging to the experimental group showed significant reductions in body weight, hunger, belly fat, and food cravings compared with those in the control group.   
Celery Juice
Celery has recently become a popular juicing ingredient among health and fitness enthusiasts, and for a good reason. Apart from having low-calorie content, it's also made up of 95% water. 
Studies show that food and beverages with a lower calorie density benefit both weight and fat loss. Celery juice in itself is an excellent source of antioxidants and valuable plant compounds that prove useful in reducing fight inflammation and oxidative stress.
Beet Juice
If you're an athlete, chances are you've already consumed beet juice to boost your performance. This type of juice contains dietary nitrates, among other beneficial compounds. Such nitrates help boost your endurance, improve muscle efficiency, and reduce your blood pressure level by dilating blood vessels. 
A whole beet is loaded with fiber and low in calories, perfect for emptying your stomach, supporting regularity, and keeping you feeling fuller longer to manage your weight effectively.
However, you need to note that most of its fiber content is eliminated while juicing. That's why beet juice isn't exactly the go-to source of this nutrient. Therefore, beet juice can be regarded as a lower-calorie yet still nutritious juice option while you're in the process of losing weight. 
Pomegranate Juice
Pomegranate juice is another healthy and refreshing drink that helps support your weight loss efforts through its low-calorie content. 
Research suggests that pomegranates help prevent your blood sugar from spiking and crashing that may otherwise result in an intensified feeling of hunger. 
Another study found that antioxidants in pomegranate juice helped stabilize the blood sugar levels of 16 respondents after eating bread, which would've led to heightened blood sugar levels.
Green Veggie Juice
Although the exact ingredients may vary, green juices usually feature green, leafy vegetables, including spinach, kale, or cabbage. All of these ingredients are low in sugar, rich in fiber, and filled with anti-inflammatory antioxidants. 
Conclusive results from studies show that decreased body weight and a lower risk of fat and weight gain over time can be attributed to greater amounts of fruit and vegetable intake.   
If you're a picky eater or concerned with how it will taste, you don't have to worry since green juices are easy to tailor according to your preference. You may simply swap in the ingredients you like from the traditional blend of cucumber, spinach, celery, and green apples. 
Similar to other juices on this list, you may opt to use a blender instead of a juicer to get the added benefits of fiber and nutrients from the leafy greens. It will also make your yield even more satiating and complementary to your weight-loss efforts.  
Lemon-ginger Green Juice
Lemon-ginger green juice is a delicious addition to your organic juice cleanse regimen. Apart from adding a kick of flavor to your drink, you can also count on lemons to squeeze extra antioxidants into the mix.
Meanwhile, ginger helps boost metabolism, reduce your appetite, and support your weight loss efforts, according to studies in humans and animals.  
For the green part, you can opt for vegetables like spinach or kale. You may blend them instead of juiced to bolster your fiber intake and keep you feeling full between every meal. 
Preparing a lemon-ginger green juice is easy. Simply mix a small portion of peeled ginger, freshly-squeezed lemon juice, and a cup (approx. 30g) of raw spinach with the option of blending or juicing them. 
Carrot Juice
Carrot juice is another beverage that is rich in nutrients, with plenty of vitamin A and other nutritious carotenoids per serving. Carotenoids are a type of plant pigment you can find in numerous fruits and vegetables.
Apart from juicing them, you may also consider blending your carrots instead to help boost your fiber intake and, in the process, enhance your feeling of fullness to aid in regulating your appetite.  
There's one study involving 28 men with obesity that lasted for eight weeks. Results show that those who had a steady intake of carotenoid-rich beverages daily experienced noticeable reductions in belly fat. 
Kale Apple Juice
Kale apple juice is a healthy, high-fiber drink that you can use as an alternative to store-bought fruit juices that have high sugar content. Kale, in particular, has a gram of fiber per cup (approx. 21 grams). According to a study, it helps stabilize blood sugar levels after every meal in humans and animals. 
On the other hand, apples are also rich in fiber and a whole lot of other nutrients. Research shows that including them in your diet increases weight loss and improves the diet quality of both children and adults. 
Making kale apple juice at home is simple. You just need to blend a handful of kale leaves with a few apple slices. If you wish to level up the flavor and health benefits by a notch, you may add other ingredients to the mix, such as lemon juice, celery, ginger, or carrots.   
Key Takeaway
Although there are risks involved when performing a juice cleanse, we can't discount the benefits of healthy and delicious juices to your long-term weight loss plans.
These organic weight loss juices have low sugar content, rich in fiber, and other essential nutrients, including vitamins, minerals, and antioxidants.   
You may refer to this list to jumpstart your organic cleansing journey as you experiment with various ingredients to create delicious and healthy juices right at the comfort of your homes.